Sixth ENVRI week will be organized in hotel NH Zandvoort, Netherlands, May 14-18, 2018

What is ENVRI week?
ENVRI week is a week dedicated to Environmental Research Infrastructures. It is organized twice a year, in November and in May. ENVRI week hosts ENVRIplus project related sessions as well as several other sessions targeting different groups of stakeholders.
Dates of the next ENVRI weeks
7th EW – November 5-9, 2018 (most likely Prague)
8th EW – March 25-29, 2019 (most likely Helsinki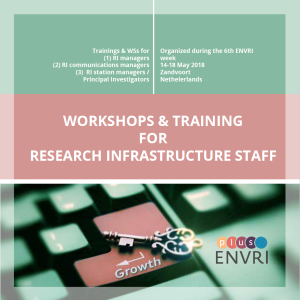 This ENVRI week will host three Hands-on Workshops and Training events. The events are tailored to different staff working in the Research Infrastructures.
1. Training/Workshop for RI Management staff focusing on how to build a sustainable governance and funding model for your research infrastructure – WS IS ALREADY FULLY BOOKED
2. Communications Workshop, organized for RI communication managers/officers. The WS will focus on sharing best practices and boosting the cooperation with industry by improving RI communications strategies;
3. Workshop for the RI station managers / Station Principal Investigators to share their experiences, challenges, and solutions on operating RI site.
For more information about these three events, either visit this page or download this brochure.
AGENDA
An outline of the agenda can be downloaded from here. Detailed session agendas will be made available closer to the event.
REGISTRATION
Registration is closed.
VENUE
Hotel NH Zandvoort
Burgemeester van Alphenstraat,63
2041KG, Zandvoort – The Netherlands
Phone: +31 23 576 0760
Website: http://www.nh-hotels.com/hotel/nh-zandvoort
We made a block reservation for our group in Hotel NH Zandvoort. The hotel offers us a special quote. You can get the quote by booking through this site: https://www.nh-hotels.com/event/6th-envri-week
It is important you book your room through this booking site because it links your booking with our block reservation. ENVRIplus will be charged for the rooms in case fewer rooms are booked. So please, use this link.LIGHTING TALKS/POSTER SESSION
We will send an email to those who want to present with all the information one week before the meeting. Ask here for more details.
TRANSPORTATION
POINTS OF INTEREST
Boulevard Zandvoort (400m)
Beach Zandvoort (1,5km)
Kennemer Dunes National Park (6km) – The variation in vegetation is very broad leading to a wealth of flora and fauna. Alongside numerous foxes, deer and rabbits, the Kennemerdunen dunes are home to many species of birds, insects and amphibians. There are also different types of bat who sleep and hibernate in the old bunkers left behind after World War Two. To guarantee a sound natural balance, horses and cattle were released into the area several years ago.
City of Haarlem (10 min. by train) – With its ancient buildings, cobbled streets and winding waterways, the medieval city of Haarlem is one of themost photogenic destinations in the Netherlands. Easily reachable by train, Haarlem is often referred to as a scaled-down version of its more famous neighbour.
Seeing you soon in Zandvoort!