WORKSHOPS & TRAINING FOR  RESEARCH INFRASTRUCTURE STAFF ORGANIZED DURING THE 6TH ENVRI WEEK
TRAINING OPPORTUNITIES
ENVRIplus, together with RITrain and COOP+ projects, organizes three Hands-on Workshops and Training events. The events are tailored to different staff working in the Research Infrastructures.
——-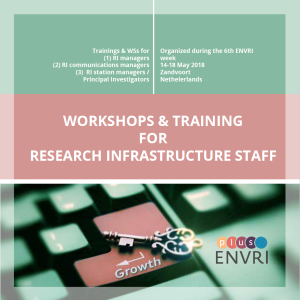 1. Training/Workshop for RI Management staff focusing on how to build a sustainable governance and funding model for your research infrastructure
2. Communications Workshop, organized for RI communication managers/officers. The WS will focus on sharing best practices and boosting the cooperation with industry by improving RI communications strategies
3. Workshop for the RI station managers / Station Principal Investigators to share their experiences, challenges, and solutions on operating RI site.
——
All the events are described in detail in this brochure. Download it and share with your Research Infrastructure colleagues.
BUILD A SUSTAINABLE GOVERNANCE AND FUNDING MODEL FOR YOUR RESEARCH INFRASTRUCTURE
THE TRAINING IS FULLY BOOKED
---
Training Workshop for ENVRI Management Staff 14-15 May
In cooperation with the RITrain project, ENVRIplus offers a 1.5 day workshop for management staff in RI's.
The workshop touches upon a number of issues related to the governance and organisation of a Research Infrastructure with an emphasis on distributed organizations, which is typical for most of the RI's that are part of ENVRI.
WHO
This workshop is meant for all staff working in management and administrative positions like:
• Communication staff
• Administration/Finance staff
• Human Resource staff
• Legal staff
• Executive directors
Also, people who are considering to move from scientific or technical work towards management are encouraged to participate.
WHEN
The workshop will start on Monday 14th May 14.00h until Tuesday 15th May 17.00h.
GOALS OF THIS WS
– to train management staff in organizational and management issues surrounding distributed RI's
– To introduce the RITrain management master program as a way to further professionalize and build your career
– To develop a network of management staff working in the ENVRI community to exchange best practices and discuss common topics of interest
MAIN TOPICS
– The Research Infrastructure as an organization
– Defining the value proposition and a strategic direction
– Group work: discussion of governance challenges
– Setting up good governance structures
– Financial sustainability of RIs
– Modes of funding
– Group work: develop a sustainable funding strategy.
You can find more information on the program here
To facilitate and stimulate participation a travel grant of max. 500€ is available for each RI represented in ENVRI.
If you're interested in participating, please send an e-mail to Jacco Konijn who can also give more information on the travel grant.
BOOSTING RIs'

 

VISIBILITY (AND COOPERATION WITH INDUSTRY) BY IMPROVING RIs' COMMUNICATION STRATEGIES
---
Training Workshop for ENVRI Communication Managers 16 May
ENVRIplus invites all Research Infrastructure staff interested in the communication matters to attend the 3rd ENVRIplus Communications Workshop. As before, the focus during this workshop is on exchanging the knowledge and experience of RI communications managers.
MAIN TOPICS
– Stakeholder mapping (Identification and prioritization of RI's target audience),
– Different communication tools and techniques that can be utilized by communicators in their activities and campaigns,
– Engagement of the different target audiences (with special focus given to industry and internal Research Infrastructure community,
– Key performance indicators (How to best measure and evaluate success of the RI communication practice)
Moreover, external speakers/trainers will be invited to provide a training on how to boost RI's cooperation throught communications activities. The idea is to learn from more advanced RIs in the biomedical cluster, but also share persepctives on the specific need of the RIs in the environmental sector.
WHEN
The workshop will start at 9:00 on Wednesday, 16th and will continue until 14:45 on the same day.
ENVRIplus invites all Research Infrastructure staff interested in the communication matters to attend the 3rd ENVRIplus Communications Workshop.
GOALS OF THIS WS
– share the experience, knowledge and best practices in RI communications
– learn from other RIs
– learn how to engage partners from the private sector
– increase the impact of your communication strategy
– plan potential joint RI communication campaigns or activities
If you're interested in participating or you would like to suggest an additional topic to be covered by the WS, please send an e-mail to Magdalena Brus.
WORKSHOP ON SHARING EXPERIENCES, CHALLENGES AND SOLUTIONS ON OPERATING RESEARCH INFRASTRUCTURE SITE
---
Training Workshop for RI Station Managers/PIs 17-18 May
This hands-on workshop organized by COOP+ together with ENVRIplus is targeted for technical RI site managers.
MAIN TOPICS
The aim of the workshop is to discuss technical challenges, exchange experience and agree on possible solutions on specific topics like energy source solutions, operating cabled and stand-alone observatories in remote areas, data related challenges (data acquisition, data transfer and storage), calibration and maintenance procedures in harsh and challenging environmental conditions. The preliminary agenda for the workshop can be found here.
Registration to the meeting is possible until 22nd of April 2018 via a link: http://www.123formbuilder.com/form-3566165/Event-Registration-Form. Notice that within the registration it is asked if you would like to present something in the meeting, via a poster or by an oral communication. Guidance to book your accommodation individually from a block reservation in Hotel NH Zandvoort is also included on the registration form.
If you have any questions related to the meeting, please feel free to contact Ulpu Leijala or Anca Hienola.
WHEN
The workshop will start at 9:00 on Thursday, 17th and will continue until Friday 12:30.