ENVRIplus European Innovation Partnering Forum
Grenoble 18

–

19 May 2017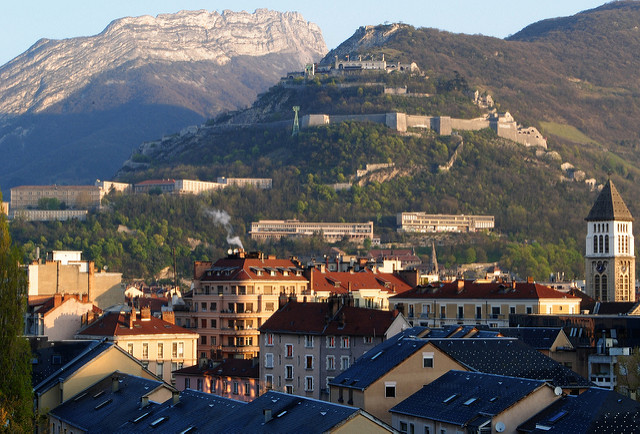 Please note that the registration to this event has ended
A community of 23 pan-European environmental Research Infrastructures (ENVRI RIs), members of the European Commission Horizon 2020 project ENVRIplus, will meet with Private Industry partners to explore opportunities for new joint innovation projects. The meeting, organised for the first time, will take place in Grenoble, France, from 18–19 May 2017.
ENVRI RIs serve more than 10,000 users, deploying sensors and services worldwide and providing unique information on the long-term evolution of environmental air, ocean and earth ecosystems. So far more than 100 international industries, including infrastructure suppliers, co-developers and users, have established special partnership with ENVRIs.
Most importantly, because ENVRIs play a strong role in influencing funding of new EU innovation programs to mitigate climate change risk, they make for valuable partners for private sector companies, particularly for companies interested in new joint research and technology development projects.
The Joint Innovation Partnering Forum with current and potential Private Sector Partners will be held in the frame of the 4th ENVRIplus meeting in Grenoble, France. The one and half day conference with industry will be organised in four sessions on technological innovation, metrology and standards, and public-private partnership. New products and technologies will also be presented at the exhibition.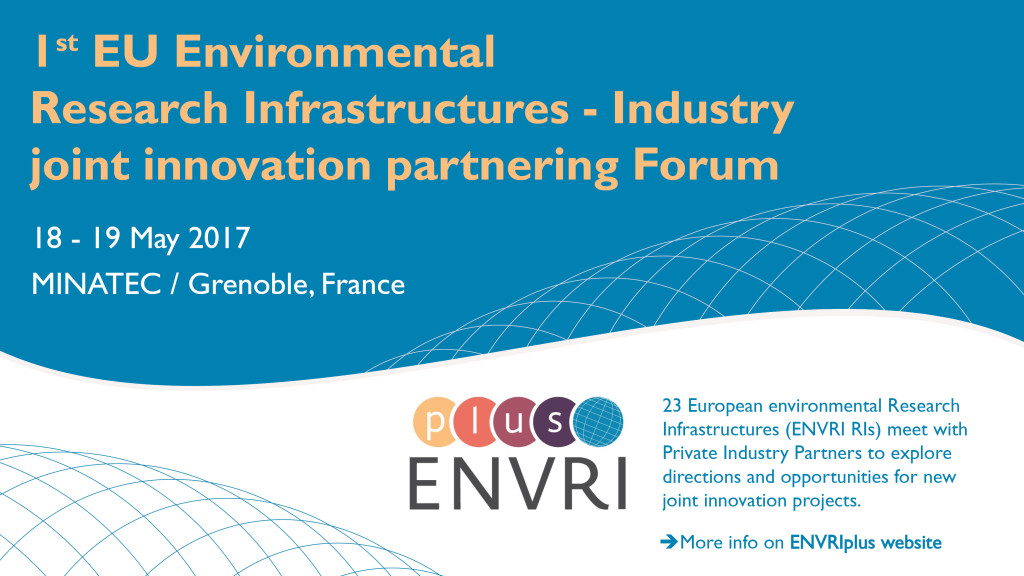 Themes of the meeting:
Emerging technologies: opportunities for new public-private partnerships and projects in the European Research Area in air, water and earth environmental monitoring instrumentation, technologies and data value-added applications market
Standardization, conformity and certification: Research Infrastructure value-added services to industry to help shortcut compliance with EU and international environmental directives and standards and access global markets
Sharing of Research Infrastructure–Industry innovation cooperation best practices, case studies and success stories
Cooperation in new EU research programs and projects addressing climate change, geohazards, pollution, energy efficiency and resource recovery
Strong private sector participation is essential for the success of the event so we hope you will join us. Participation in the event is free-of-charge and open to all interested companies as well as ENVRIplus and ENVRI community members. However space is limited, particularly for exhibitors, so please register at your earliest convenience:
Accommodation
Read more about the hotels and how to book them here.
Transportation
By plane
There is a shuttle bus service from Lyon Saint Exupéry Airport to Grenoble. Take the bus from the airport (Space "Welcome – The Square" – Level 1) to Grenoble bus station. The journey takes around 1 hour 5 minutes.
There is a shuttle bus service from Geneva Airport to Grenoble. Take the bus from the airport (Level "Arrivals") to Grenoble bus station. The journey takes around 2 hours 15 minutes. Grenoble bus station is located next to the train station, in the city center.
By train
From Paris to Grenoble train station
Grenoble is 3 hours from Paris (train station "Paris Gare de Lyon") by TGV and 1 hour and 20 minutes from Lyon (train station "Lyon Part Dieu"). Europole hotel 4* and Novotel Grenoble centre 4* are next to the train station. See timetables here.
Local transportation
Grenoble bus station is located next to the train station, in the city center, where also tram B station "Gares" is:
From bus/train station take the tram B in direction "Gières Plaine des sports" to go to hotels (Hotel d'Angleterre 3*, Hotel de l'Europe 3* and Hotel Ibis Grenoble centre Bastille 3*). Hotel Europole 4* and Novotel Grenoble Centre 4* locate in walking distance from the bus/train station. See timetables here.

MINATEC innovation campus
In city center, take the tram B Direction "Presqu'île" and stop at "Cité internationale" station (8 minutes). The tram station is in front of the Parvis Louis Néel, you just have to cross the street Felix Escanglon and the Parvis to get to Maison Minatec.
Venue
MINATEC
3 Parvis Louis Néel
38000 Grenoble

For further information about the Forum, please contact ENVRIplus co-coordinator Paolo Laj
If you have any questions regarding the logistics, please contact Anaïs Schneider
For ENVRIplus project-related issues, please contact ENVRIplus Project Office or ENVRIplus communications team.
Picture 'La bastille de Grenoble' by Vinicius Pinheiro / CC BY-SA 2.0